DEMOCRACITIES
Better consultation with residents, not forced demolitions, could lead to peaceful resolution to battle for Santa Marta slum.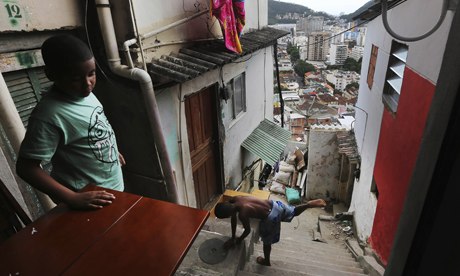 Campaigners argue that favelas such as Santa Marta in Rio de Janeiro are a model of affordable housing that preserves human diversity. Photograph: Mario Tama/Getty
A steep climb leads to the top of the Santa Marta favela in Rio de Janeiro, where the statue of Christ the Redeemer is visible to the right and the ocean can be seen over the roofs of hundreds of homes below. The residents of the cluster of houses on the summit, O Pico, surely have one of the best views in Rio. But they are fighting efforts to evict them and demolish homes that the city says are in an area of risk.
"For years, the authorities did nothing when it was so dangerous to live here. Now that the area is finally safe, they want…
View original post 749 more words